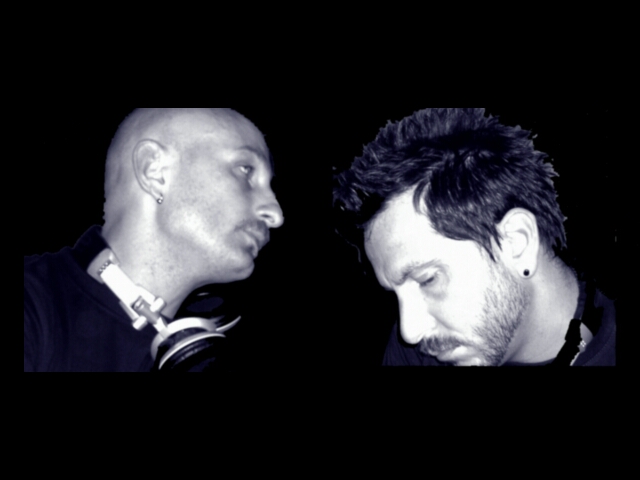 artist: dj dandi&ugo
real name: Alex D'Elia, Alessandro Piatto
website: www.djdandieugo.it
labels: italo business,pinksilver,lasergun...
more info: [**click**]
Our trip in House Music began in far 1989 when our strong friendship and our common love for club electronic music became a passion: DJ! In this way began our story of the DOUBLE DJ SET: we work in pair like we are an only one DJ, we put on the stereo two viniles for all the length of our live set, so we are able to unite our musical preferences to make our nights full of energy! In these years the evolution of Sound, Rhythm, Melody thrill us really a lot and make us listen and play different kind of music: ACID HOUSE, TECHNO DETROIT, UNDERGROUND, DRUM'N'BASS,TRIP HOP, PROGRESSIVE, DEEP HOUSE and ELECTRO TECHNO.
The early equipment, early viniles, early nights in our zone's club. Born as a sort of a game deeper and deeper our passion became a job, a job that brought us to work within DJs and Producers of national and international fame, and to co-operate with very important clubs like PETER PAN (Riccione), ECU (Rimini), PASCIA' (Riccione), Classic Club (Rimini), LES FOLIES DE PIGALLE (Reggio Emilia), PRINCE (Riccione), COCORICO' (Riccione), MATIS (Bologna), SOPHIA (Gabicce), WISHCLUB AFTERHOUR (Misano Monte), CUBADUST storkino (Milano Marittima) and, of course, our favourite one: ECHOES LIZ MUSIC CLUB (Misano Monte) where we are resident DJs of the privè: CRISTAL BLACK. After all these years of amusement, nights, afterhours, curiosity brought us to discover new ways, so we bought our first personal computer and sequencer and after two years, thanks to the collaboration of a great DJ and Producer (Ricky Montanari), we made our first single: RICKY MONTANARI presents DANDI & UGO "BEAT CONDUCTOR" (Part 1 & 2) for the label "RE VOX" (Ivano Coppola A.R.), distributed from LEVELONE. Thanks to the great results of this project we could meet and co-operate with artists like Raymond Barry (Producer of electro house N.O.I.A., KLEIN & MBO, FUNK REVENGE …) which whom we are co-operating nowaday.
We are also working with Fabio Carniel (MULTICOLOR RECORDS, DIRTY HOUSE, PART ONE…), Guido Nemola (JOYFULL FAMILY), Producers Loaded and Santorini,dj & great producer Andrea Bertolini (STEREO SEVEN PLUS label), DUB RECORDING LABEL, Luca de Ponti (ART DIRECTOR label), DJ and producer Timothy with his crew: the MOOD (Steve and Andy Lee), DJ and producer Alex D'Elia (LOOSEHEADZ). TONKIND RECORDS (BERLIN) . SAVAS PASCALIDIS (LASERGUN RECORDS) " BERLIN ". RAINER WEICHHOLD (GREAT STUFF RECORDS) " GERMANY ".